Battleball
Fall BattleBall Tournament
October 27, 2013
Camp Hill United Methodist Church

"How did you do it? You knew your opponent had fought more fights than you and had always come out the champion.
How did you win this time?"
"I knew it when I woke up that morning: it was my day."
~Kayla Harrison, first American woman to win the Gold Medal in Judo.
October 27th, 2013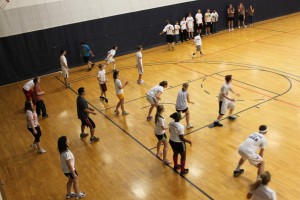 It could be just another tournament.
It could be just another fight.
It could be just another day.
Or it could be…YOUR day.
In  the S'nL  Fall BATTLEBALL Tournament!
That is right my friends. The time has arrived once again.
October 27, 2013, Camp Hill UMC, Camp Hill, PA.
12 teams will battle for the title of champion.
12 teams will seek the coveted Battleball Champion Tee Shirt.
12 teams will dodge, dip, duck, dive, and… dodge.
12 teams. 2 courts. 1 afternoon.
Will it be…your day?
Time to find out.
Registration will begin at 1pm and the tournament will commence at approximately 1:30pm.
The rally will begin at 6:15 and end near 8pm.
Please note, the registration fee per participant has increased to $12.00/person.
With 2 available courts this year, we can accommodate a maximum of 12 teams. Groups will be honored on a first come first served basis. We are also requiring teams to have at least 19 people. If you are having trouble gathering enough team members, please notify Christie Miller  (cmiller@snlym.com) and we will attempt to pair you with another group who may be looking for more players. You may also coordinate with other youth leaders on your own. Unfortunately, we can not guarantee we will find another group, but we will do our best!
Register here!
Be sure to bring a Liability form for each participant and to read the rules with your team beforehand!
Download Rules, regulations, and forms here: