Missions
Sowers of Seed
South Carolina
IT'S A MUTUAL THING . . . you give, you get, you bless, you're blessed.  That's what you experience when you get involved in our missions – your eyes are opened, your faith is strengthened and your life is changed.  The last 15 years of mission with the Pee Dee natives in South Carolina has challenged and changed many youth and adults as they simply give themselves to whatever task is needed – maybe painting a house, building a wheelchair ramp, cutting down a tree or two, fixing a porch floor.  Seeing the grateful face of someone who desperately needed help but didn't know from where it would come is like they say on the commercial, "priceless".                             We invite you to experience this "priceless" opportunity with us – it goes far beyond the hammer, paint brush and chainsaw . . . it's really about building relationships and building people – a mutual benefit and blessing shared by those who give as well as those who receive."
We do two work related missions – one in June, the other in August.   The third mission is during December where toys, household items, clothing, and food are collected and distributed to over 150 families.
 2013/2014 Dates:      December  15th-19th         June  15th-20th         August 10th-15th
Costs:  $300/person for June and August, $100/person for December. This includes lodging, meals, and building supply expenses.  Groups are additionally responsible for gas expenses during the mission week as well as meals during travel to and from PA. Required age for the mission is 14 and up OR students who have completed 8th Grade
*Because the majority of our work projects require basic construction knowledge and skill, each group must have 1 adult for every 7 youth on your team that is knowledgeable about construction. This will ensure our ability to be more effective in completing the needed projects. We also need adults that can oversee painting, clean-up, children's ministry, etc.
                                                                                                     For more information contact Cindy Noel at 814-632-8589 or  cnoel@snlym.com.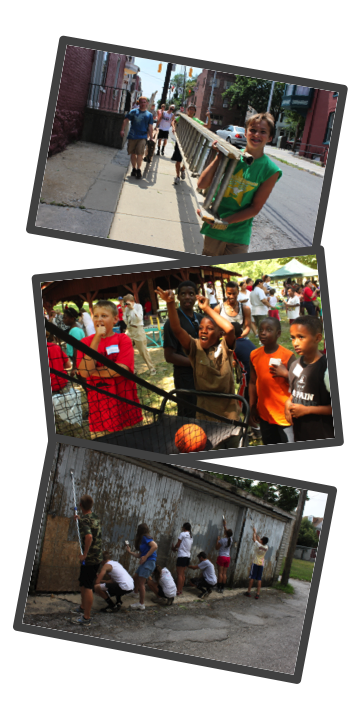 York, PA
Join us for a week of life giving ministry as we connect with families and organizations across the city of York.  Whether it's painting a house, pulling weeds in a garden, or reading to children in a local library, the love of Christ is apparent and tangible! Come ready to serve and prepare for God to use you as a vessel for His kingdom!
 2014 Dates:     July 13th-18th
Cost: $200
Ages : 14 and up- OR students who have completed 8th Grade

York Mission Medical Form
2014 York Mission Liability Release Form
2014 York Mission Info Sheet

For more information contact Chris Irvin at 717-610-1300 or  cirvin@snlym.com
Reflections on Mission
The Pee Dee Mission is not merely a work camp, but rather a Christ-filled experience. The mission is very relational and very real. The work involved is diligent and yet rewarding. The food is second to none! From the fellowship of the "Team," to the connection felt with the Native Americans, God's presence is tangible and close on a Pee Dee Mission…I can't wait to return.
- Jeremy Fletcher